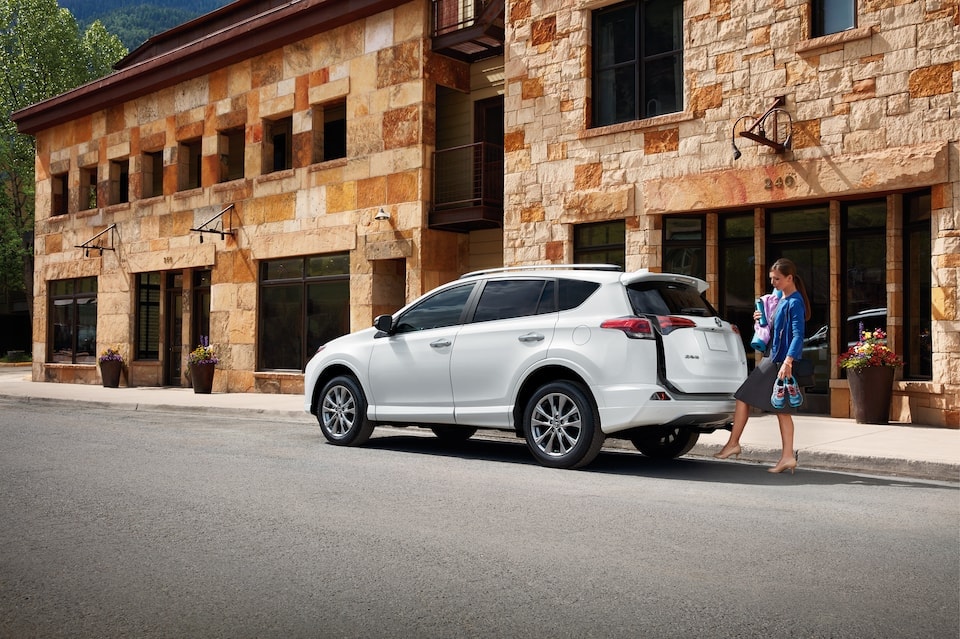 Offering Quality with a Used Toyota RAV4
It is difficult to find a fantastic used SUV that can match your daily needs. This is no longer the case when shopping from our used Toyota RAV4 options. The long-lasting history of a RAV4 is sure to impress any used SUV shopper in the area.
The Perks of a Toyota
When you decide to buy a used Toyota, you are going to get several phenomenal perks. The performance, style, and functionality of these used models are hard to match. However, one of the largest benefits of any used Toyota is the reliability.
Every Toyota is going to offer a level of engineering and quality that sets it apart from the crowd. You are sure to trust your used Toyota throughout any commute or weekend getaway. That is the first thing customers need from their used purchase.
Driving the RAV4
The Toyota RAV4 is one of the most beloved SUVs on the current market. This is a versatile option that will bring you a bit of everything. Inside a used RAV4, you are going to get premium materials and enough space for your passengers to get comfortable. The technology and innovative features in a used RAV4 make it feel like a more modern purchase as well.
Driving this used SUV is going to be an experience within itself. Customers will get one of many dynamic engine options in a used RAV4, each of which offers enough horsepower for an exciting drive. This used RAV4 can even bring a better fuel economy to the table than many other SUVs.
Toyota RAV4 Frequently Asked Questions
Are Toyota RAV4 SUVs reliable? Toyota models are known for long-term reliability. The RAV4 is no exception thanks to innovative powertrains and exceptional build quality. When properly maintained, drivers can expect years of stout performance from their Toyota RAV4. Many owners can push up to 200,000 miles before trading up to a newer model.


Can the Toyota RAV4 tow trailers? Depending on the powertrain and selected trim, Toyota RAV4 SUVs have a maximum towing capacity between 1,500 and 3,500 pounds. This makes the RAV4 ideal for whatever adventure you're planning, hauling a small boat to the lake or a camper into the mountains. Our team can help you find used RAV4 models equipped with a tow hitch receiver and wiring harness to meet your needs.


Are Toyota RAV4 SUVs all-wheel drive? Many of the used Toyota RAV4 SUVs for sale in Torrance are available with all-wheel drive. This helps you retain optimal traction and stability throughout changing weather or road conditions. Newer models are often available with a Dynamic Torque Vectoring All-Wheel Drive (TV-AWD) system with a Rear Driveline Disconnect to provide performance or efficiency depending on your situation.


Can the Toyota RAV4 go off-road? Toyota RAV4 SUVs can tackle rugged terrain when equipped with all-wheel drive and all-terrain tires. You'll find the RAV4 available with up to 8.6 inches of ground clearance or the Multi-Terrain Select (MTS) system. Drivers can take their RAV4 on adventures to the beach, forest, mountains, or desert where other vehicles can't go.


What if I have additional questions? If you're still seeking an answer to your question, contact our experienced sales team. You can give us a call at 815-459-7100 or visit our showroom in person to receive personalized assistance. We'll take the time to learn your preferences and help you become better informed to remain confident throughout every step of your car shopping experience.
Find Your Used Toyota RAV4 in Torrance
Get your shopping process started with a used Toyota RAV4 test drive. We can show you through our current RAV4 options and get you in the right one for your daily needs. Our team looks forward to working with you soon.